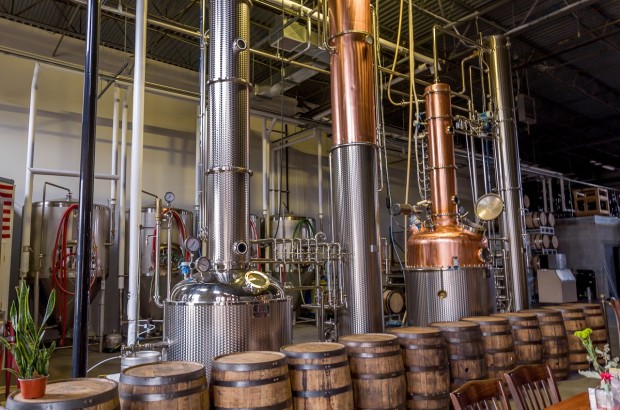 Across the United States, a revolution has been taking place: craft distilling. The movement that has been shaping the beer industry for the last 20 years has finally come to spirits. Historically, Pennsylvania has had archaic and repressive liquor laws, so we were shocked to discover that that the craft revolution has come and there are a number of excellent Southeast Pennsylvania distilleries. From the mighty Manatawny Still Works and Thistle Finch Distillery to emerging new comers like Hewn Spirits and County Seat Spirits, Pennsylvania is slowly emerging from the dark ages.
Before jumping into the good stuff, it's important to understand where Pennsylvania stands on the consumption of alcoholic beverages. All alcoholic beverages are controlled by the state. This system was created post-Prohibition and was designed to make the purchase of alcoholic beverages as "inconvenient and expensive as possible." To this day, the Pennsylvania Liquor Control Board ensures that vision remains in effect. Having moved to Pennsylvania from other states, we felt like we were going back in time 75 years.
However, despite a politically charged environment and strong resistance from special interest groups, there have been several recent attempts to bring Pennsylvania reluctantly from the 19th Century into the 21st Century. In 2011, House Bill 242 was passed, which began to overhaul many of Pennsylvania's antiquated laws. One of them was the ability to operate craft distilleries, the tax structure for spirits, the regulatory environment for distillers, as well as the ability to provide tours as well as sell spirits directly to consumers.
To understand the Pennsylvania distilleries today, this history is important. It explains the small number of distilleries in the state as well as their comparatively small size. Other states (such as in Illinois or Texas) modernized years ago and have enjoyed a robust addition to their tourism industries, so Pennsylvania has a long way to go. But despite being late to the party, distilleries in Pennsylvania are (finally) booming!
In no particular order, here are a few of our favorite Pennsylvania distilleries located outside of Philadelphia. Distilleries in Philadelphia will be covered in another article.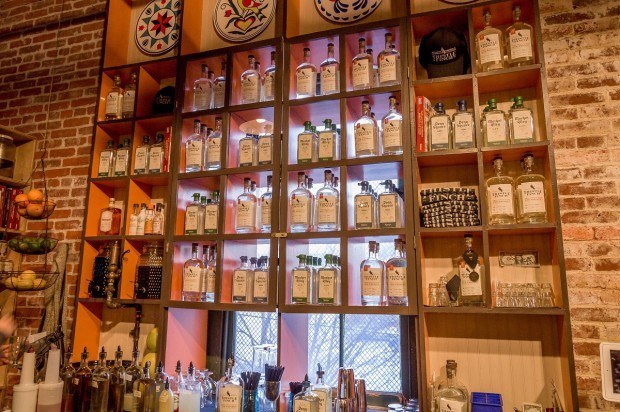 Thistle Finch Distillery in Lancaster
Situated in downtown Lancaster, Thistle Finch Distillery occupies a giant, four story, barn-like structure. This was the former Walter Schnader Tobacco Warehouse – and it is the perfect place for a craft distillery. Since opening in December 2013, Master distiller and owner Andrew Martin puts the craft in craft distilling. He actually built the 300 gallon still…from scratch. The rustic nature of the old warehouse is enhanced by large bags of grain stacked neatly by the bar. Thistle Finch produces the Market Alley Gin and The Penn Square Vodka, but their real focus is on the Small Batch White Rye. Using a rye-wheat-barley grain mix (60-30-10) produces a malty nose and a wheaty, slightly spicy taste and it is perfect for cocktails. The bar at Thistle Finch specializes in exceptional, hand crafted cocktails. These are more than beverages – they are art. We spent a few hours in the tasting room one evening as bartenders Laura and Jordan mixed delightful concoctions for us to taste. When we think of a classic craft experience, Thistle Finch Distillery is what comes to mind: one man's labor of love and a perfect environment that you just want to sit in for hours. Website: http://www.thistlefinch.com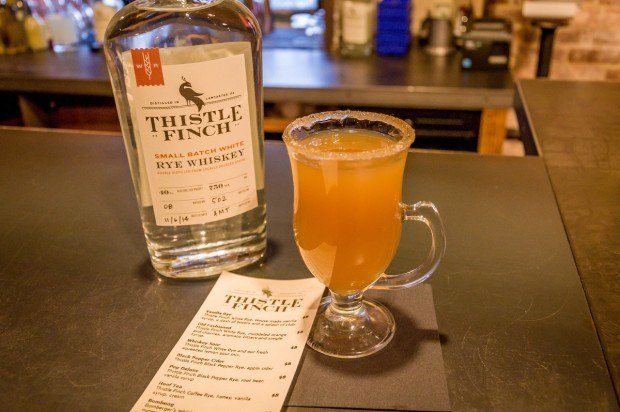 Manatawny Still Works in Pottstown
The massive Manatawny Still Works in a suburban industrial park is the regional heavy weight. Nearly every other craft distiller in the region tried to compare themselves or their products to Manatawny in some way (probably since it is the distillery that most people know). Manatawny is also the most corporate of all the distilleries in the region – and that's not a bad thing. This is not a group of weekend warriors trying to make good spirits. The Manatawny Still Works is a group of corporate executives with a passion for making exceptional spirits. The distillery takes its inspiration for the local area, including the Manatawny Creek, which translates from the Lenape Indian language to mean, "The place we meet to drink." Each of Manatawny's products is named after a local connection to Pottstown, such as the J. Potts Whiskey, a white, un-aged whiskey named after the town's founder. Our favorite was the Small Batch Whiskey (we bought bottle #723 from their first batch run), aged 226 days and is super smooth. This is the first whiskey I've ever had that I like to drink neat – lightly spiced, silky finish. Manatawny Still Works deserves a place on every craft spirit drinker's personal bar. Website: http://www.manatawnystillworks.com
Hewn Spirits in Pipersville
Never judge a book by its cover. We'd never even heard of the town of Pipersville before making the drive out to Hewn Spirits. We took a wrong turn – twice. We showed up at a bland looking industrial building's loading dock and our expectations were pretty low. Entering Hewn was like a different building altogether – the industrial exterior was transformed inside to create a barn-like feeling using reclaimed wood. But the spirits are what make Hewn special. They've taken the local movement to a whole new level. Their grains are grown within 10 miles of their facility and are milled in a local, water-powered grist mill from the 1800s. Since opening in April 2014, Hewn has been producing some of the smoothest spirits we've ever sampled. From the very first sip, we knew Hewn was different. The Red Barn Whiskey drinks easy and has hints of sweetness. But what really excited us were the hickory single malt and a chestnut single malt – American interpretations of the Scottish classic. Hewn also mixes some excellent cocktails in their tasting room. We only planned for a short visit and ended up spending hours. Hewn Spirits is a must visit! Website: http://hewnspirits.com
Social Still in Bethlehem
Bethlehem's Social Still is the most beautiful distillery we've ever visited. Built into an old bank building, the two-story, glass-encased production facility at Social Still is, in the words of owner Adam Flatt, a "visual showpiece." The distillery is an outgrowth of the family's experience in the liquor industry as owners of the nearby Franklin Hill Vineyards. Social Still focuses on vodka and gin production, offering a sampler called "The Tease." Eventually, Social Still will move into whiskey production and plans to use the old bank vault in the basement for aging. Social Still is the only distillery we visited that serves food, which was excellent. We had a hummus and flatbread lunch, along with their amazing signature cocktails! Website: http://socialstill.com
County Seat Spirits in Allentown
One of Pennsylvania's newest distilleries (opened to the public in February 2015), County Seat Spirits is labor of love between uncle John Rowe and his nephew Anthony Brichta. Housed in the former Mack Truck factory in Allentown, County Seat takes grain-to-glass to a whole new level – they hand craft every step in the distillation process. This means they mix they own grains, grind it and brew their own mash. County Seat makes all their spirits in small batches – very small batches. Currently producing their Class 8 Vodka and Sand Island White Rum, a gin and bourbon are also in the works. We loved the Class 8 Vodka – it was crisp with subtle grass notes. You can't help being impressed with the passion John and Anthony bring to their craft and the quality of the products they're producing. If you're anywhere in the Lehigh Valley, County Seat is worth a visit! Website: http://www.countyseatspirits.com
Old Republic Distillery in York
One of the older craft distilleries in the state, Old Republic Distillery opened in Seven Valleys, PA. In 2014, a modern tasting room was opened in a strip mall in York, PA. Old Republic Distillery (ORD) focuses on pre-mixed fruit libations. Drawing heavily on Pennsylvania's agricultural heritage, ORD makes a strawberry Love Potion, Blueberry Apple Pie Moonshine, Blackberry Vodka, and Love Potion Black Cherry. But our favorite was the 55 proof Apple Pie Moonshine, featuring locally grown apples. For many, Old Republic's fruit-based spirits can be a welcome diversion from whiskeys and bourbons. Website: http://www.drinkord.com
And because you can never have too many pictures of Pennsylvania distilleries: